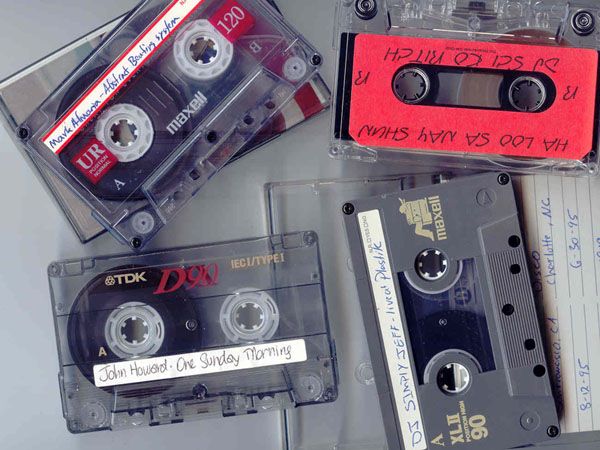 T A P E
- Here's a blog that's great for minimal techno, classic disco, and other electronic goodies hailing from London, England. They have sets with complete track listings available and also post some individual tracks for you to check out. Make sure you go out and buy the music that you like, which is why they include track listings! Support the artists that make the music you enjoy.
The Scene Saver
- This is a great site for house and techno especially from the 1990's to today. You must register to be able to view the mixes and download them, though, but it is free to do so. There are a ton of Mark Farina and Terry Mullan mixes on here, along with many more DJs.
Raver's Edge
- Here's a site that offers recordings of one of our local electronic music radio shows here in Cleveland. They've managed to get some pretty big names to play on the show as well, icluding Marc Cotterell (U.K.), Rich Korach from Paxahau (Detroit), and a hilarious interview with The Sound Republic (Chicago).
Paxahau
- This site offers a great selection of streaming minimal techno artists, mostly Detroit Techno but other legends of techno and today's hot up and coming artists are also represented.
mpiii (click the graphic above to join and I'll get bonus referral credit) - This site has over 15,000 DJ mixed sets available for downloading, but with this treasure there comes a catch: you have to participate to gain credits to download mixes. They give you five free downloads for joining and posting your contact info and setting up a profile. After that, you have to either post links to mixes (that must be on a server, as you cannot simply use
Yousendit
or other upload sites) or participate in discussions or what have you, but it's a cool concept and they have a diverse assortment of mixes.
Modyfier
- This blog series of exclusive DJ mixes is the hotness. I posted a blog in the past about the Pheek mix (Process037), but there's oh so much more.
MixesDB
- This site has nearly 6,000 mixes available and there's no catch. You can even post links to mixes as long as they were recorded live from a radio show or a nightclub or rave/event.
These go back to 1971, so if you're looking for early disco and funk sets this is the place to look. There are also Live PA recordings and some live performances included as well. Again, there is a nice diverse selection of most if not all electronic and dance music genres listed.
mnml
- Online forum concerned with all things minimal techno. Individual songs and also mixes to download can be found within forum threads on this site.
Thanks to Paul for the link.
Live Sets
- This site has an extensive selection of on demand streaming mixes available. You must register to use all the features of the site. There's also a photo gallery of events worldwide.
Thanks to Patrick for the link.
Live at Focus
- Here's a site with a great underground selection of more current DJs making waves in the world of electronic music. These sets were all recorded live at the L.A. underground hot spot Focus.
It's House!
- Here's a site featuring mixes and original house and tech-house tracks produced by Inbum Cho aka Avondale Music Society hailing from the windy city and birthplace of house music, Chicago. Inbum rotates which mixes and tracks are available for downloading and streaming so check back often.
Golden Era Jungle
- This is the goldmine of early UK Hardcore, which was the precursor to Jungle and Drum and Bass. There's a lot of great mixes on this site.
Thanks to Patrick for reminding me of this site!

Ezeskankin Mixtapes
- Here's another cool site to download old mixtapes that were converted into digital files with a nice selection. This site is free and you don't have to register.
The Essential Mix
- This is the world-renowned streaming internet radio show hosted weekly by Pete Tong since 1993. You can find recordings of many past shows on file-sharing sites as well, and the track listings have been meticulously recorded for most of the shows
here
. I'd strongly suggest that if you like a particular Essential Mix, that you check out the track listing on that site and purchase the music from the artist. Support the music by artists that you enjoy and it will continue to be made.
Epiphic
- Here's a nice Chicago-based site that includes some rare and hard to find mixes by some underground house music heroes. Mystic Bill is largely underrepresented on other sites, but he offers three mixes here. J.T. Donaldson, Karl Almaria, Jazzy Eyewear, John Simmons, Chuck Love, Troydon, and Tortured Soul are among the other artists offering mixes and live performance recordings to fullfill your underground house music needs.
DNA Lounge
- Here's a site with live webcasts and archived recordings of shows from the DNA Lounge in San Francisco. They archive the past two weeks of shows for free, but you have to purchase the live streaming webcasts.
Discobelle
- Another blog with a fine array of mixes to download as well as individual tracks to check out. Go to the "Mixin' It Up" section along the right hand side of the page for the, well... duh, mixes.
Deep House Page
- This site has a huge archive of house music, especially of the deep variety, hence the name. This site is based out of Chicago, but there are NYC and other areas represented as well. Many of these are Realplayer streams, but they do have downloads available as well. I can't remember if you have to sign up as a member to download mixes, but if you do it is free to do so.
Cleveland Underground
- Here's a site run by the man who had the biggest influence on me as a DJ. He inspired me in the early 90's to actually buy turntables for all the records I had been collecting. Mike Metz is a truly legendary DJ of the house/electronic music scene in Cleveland, and lately he's been offering his skills to the world on the
Dogglounge
site where he hosts a weekly show every Tuesday night. There's recordings of past shows available on the Cleveland Underground site, as well as other live mixes that Metz has recorded. There are also guest mixes hosted on his site as well. If you like your house atmospheric and deep, this is the place to be.
Cleveland Nightlife
- Register for free and join our forum! Then you'll gain access to a few areas that are not available to non-registered members. We have an area of the forum specifically devoted to links of DJ mixes and original tracks called The Jukebox which currently has over 600 posts in it.
Buzzlife
- Here's a podcast devoted to the East Coast legends of dance music, specifically championing the legendary Buzz and Fever events. There's mixes by Dieselboy, Scott Henry, Charles Feelgood, Fort Knox Five, Krafty Kuts, and Tommy Sunshine. There are some downloads available and some streaming sets as well.
Bozman
- Here's another great site for oldschool disco and funk sets as well as deep house sets. The owner of this site really knows his stuff, as I've learned a lot from reading the track listings on this site. There are many Theo Parrish, Moodymann, Masters at Work, Toddy Terry, Kerri Chandler, and more goodies inside. The only bad thing is that some of the mixes are only Realplayer streams, and some are in Windows Media Audio formats, but there are still plenty of
.mp3s to keep you happy.
Betalounge
- Here's a huge selection of streaming mixes recorded live from San Francisco, Hamburg, and other locations around the globe going back from 1996 to the present. This is a great site for minimal techno and house sets.
All DJ
- This site has a ton of Progressive, Trance, House, Techno, Electro, and Deep/Tribal/Minimal sets. There is also a comprehensive list of electronic music FM radio shows included with links to the station streams.
Thanks to Patrick for the link.